> Products > Miltary > DCL110AD-3X

Modified from DCL110 basic model, the DCL110AD-3X is combination of DCL110 and 3X magnifier with flip up and down mount. The addition of 3X magnifier enhances the sight's capabilities. Used in the spotting position and target identification, the 3X magnifier provides viewing through the large FOV lens with the red dot to optimize the long-distance aiming accuracy. This model also supports an automatic reticle-brightness feature and night vision mode shift. DCL110AD-3x also have capability of transitioning from 12.7 mm to 7.62 mm ballistic drop compensation.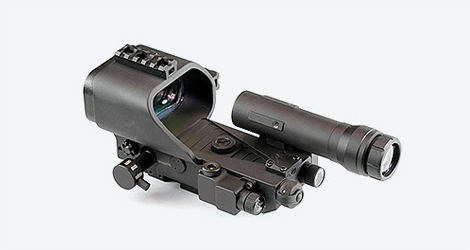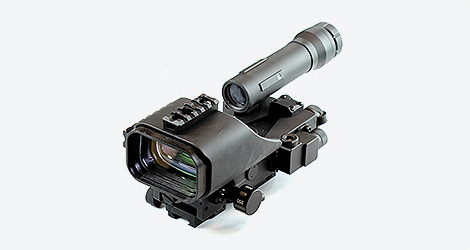 Built-in 3X Magnifier with flip up/down capability.

Integrated recoil compensator retains sight picture on fast moving targets

Adapted a wide lens (85x55mm) makes easier to track moving targets.

Supports both 12.7 mm & 7.62 mm caliber firearms using dual trajectory compensation switching plate.

Auto brightness control mode using built-in ambient light sensor

| | |
| --- | --- |
| Objective Lens | 85 x 55 mm |
| Reticle Shape & Size | Red Dot W/Circle (3 MOA & 35 MOA) |
| Brightness Setting | 11 Daytime Levels / 11 N.V. Mode |
| Dimensions | 300 x 130 x 120 mm |
| Weight | 1,950 g |
| Battery Life | CR123 Lithium @ 1 pc 1,000 Hrs @ Daytime Level 6 out of 11 Over 30,000 Hrs at N.V. Mode |
| Operation Temp | -41° ~ 71° C, (-42° ~ 160° F) |
| | |
| --- | --- |
| Model | DCL100AD-3X |
| Designed Weapons | HMG NATO 12.7 mm (M2HB, K6) or HMG NATO 7.62 mm (M240D, M60D, MG3) |
| Trajectory Range | 200, 400, 600, 800, 1000, 1200, 1500, and 2000 meters |