> Products > Miltary > DCL120

Model DCL120 Dot Sight is designed and developed specifically for use on .50 caliber (12.7mm) Heavy Machine Guns (HMGs) but not limited to the HMG. This distinctive dot sight adapted the world's first extra wide lens (170 x 70 mm) which provides accurate shooting in jolting armored vehicles, shaking helicopters and rocking patrol boats with head-up and both eyes open.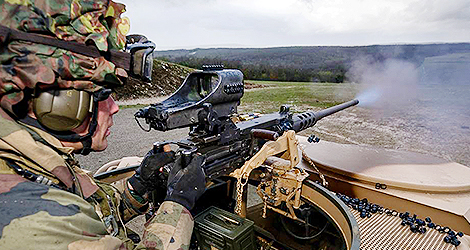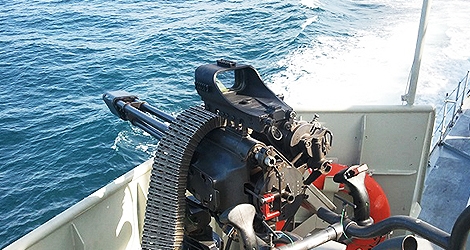 Extra wide lens (120x70mm) allows operators to track moving target with both eyes open.

Designed specifically for HMG

Solid construction for repeatable accuracy

Integrated recoil compensator retains prevents loss of sight picture on high recoil weapons

Each sight is CNC machined from a solid block of 6061-T6 aircraft aluminum.

| | |
| --- | --- |
| Objective Lens | 120 x 70 mm |
| Reticle Shape & Size | Red Dot W/Circle (3 MOA Dot & 40 MOA Circle) |
| Brightness Setting | 8 daylight, 3 night vision |
| Dimensions | 330 x 180 x 155 mm |
| Weight | 3,100 g |
| Battery Life | CR123 @ 2/1,000 Hrs |
| Operation Temp | -41° ~ 71° C, (-42° ~ 160° F) |
Model
DCL120
DCL120H
Designed Weapons
HMG NATO 12.7 mm (M2HB, K6)
HMG NATO 12.7 mm w/Platform on Helicopter (M2HB, K6)
Trajectory Range
200, 400, 600, 800, 1,200 meters ( 5 Ranges)